IBC is just gone and the 'hot button' themes included: Rise of OTT delivery; Roll out of HEVC in UHDTV but also HD contribution; VR/360; HDR services; Cloud based headends; Remote production; Video over IP.
Visitors to Ericsson's bright and busy stand saw a range of new Contribution and Direct to Consumer solutions and products, as well as our latest VSPP and TV Platform offerings.
The stand showcased exciting, new and enhanced solutions to these.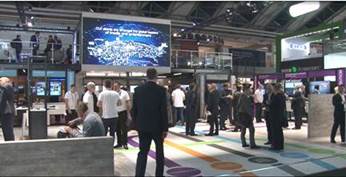 Here's some of the key stand highlights:
- CONTRIBUTION ENCODING
NEW HIGH DENSITY, LOW LATENCY HEVC & AVC on AVP 2000, 3000 and 4000


Up to 4 CE-HEVC cards can be fitted in an AVP, meaning an amazing four channels of 4K UHDTV or sixteen channels of HD from the compact, low heat low cooling AVP 1U form factor.

The new version of CE-HEVC is available from the end of October on new or existing AVPs.

To find out more go to this link


- CONTRIBUTION DECODING
INTRODUCING MEDIAFIRST CONTENT PROCESSING

Ericsson launched a new decoder which complements the industry leading RX8200 Advanced Modular Receiver – Ericsson's new MediaFirst Content Processing
It's a wholly new, wholly Ericsson solution for contribution media processing with its initial application being an HEVC 4K and HD decoder.

Up to now, operators had limited choices for decoding 4K. Quad AVC is complex and bandwidth inefficient. HEVC server based 4K decoders have either limited bit rate handling or high latency. Hardware HEVC 4K decoders have major flexibility question marks on their future, in a fast changing UHDTV market.

MediaFirst Content Processing uniquely combines the low latency 4K decode power of new Ericsson hardware with the flexibility of CPU resources.

It is also futureproofed for UHDTV and video over IP operating modes. It uniquely offers deployment either in a conventional appliance form factor or in future, as part of Ericsson's "Distributed Cloud Contribution" architecture.

To find out more go to this link

- CONTRIBUTION DECODING
CONTENT PROTECTION (WATERMARKING)

Piracy of high value content during contribution, especially premium sports, continues to threaten revenues.
Ericsson's RX8200 Advanced Modular Receivers coupled with the nCompass Director content protection solution is already widely used and trusted for content encryption. Now an additional layer of security can be deployed – integrated with Nexgard watermarking technology

Each RX8200 now has a unique identifier invisibly stamped in the image. This means rights owners can analyze content that has made it to unauthorized outlets and trace how content is being pirated.

To find out more go to this link

- DIRECT TO CONSUMER
PRACTICAL CLOUD HEADENDS

Ericsson's MediaFirst Video Processing offers array of headend technologies to suit different customers with different needs – cloud, configured appliances or dedicated hardware:
Cloud based headends have been talked about for several years but until now, vendors have tended to simply offer somewhat modified but still 'tightly coupled' versions of conventional software encoders. Ericsson believes to gain greater benefit of cloud headends, it's necessary to fundamentally rewrite software around microservices. This 'loose coupling' delivers greater flexibility of use and efficiency of the base components.
Ericsson is the first vendor with true microservices cloud based headends now successfully up, running and fully delivering. This means new services or software upgrades can be spun up in seconds, all operation can be centrally controlled and templated and resources are efficiently utilized.

Cloud based headends are a big topic right now but there's a gap between what is claimed and what is actually deployable. Ericsson have worked successfully with major operators to convert the potential of cloud benefits into practical deployable reality.

To find out more go to this link

- DIRECT TO CONSUMER
COST EFFECTIVE OTT USING QSV

Debuting at IBC 2017 was the Ericsson T1 platform with Intel Quick Sync Video

This is a configured 2U server product offering great picture quality with significant footprint reduction - less rack units and power consumption. Optimized ABR offers the same Video Quality as conventional ABR but with lower CDN costs. The T1 platform addresses OTT and IPTV with unified software, leveraging hardware acceleration and using Centralized Management.

To find out more go to this link

DIRECT TO CONSUMER
INTRODUCING C2 - A HIGH QUALITY, SIMPLE TO DEPLOY HEAD END IN A BOX

Also debuting at the show was a new compact self-contained 2U HD and SD encoding, transcoding and stream processing headend, with integrated control, statmux and much more, powered by second generation Ericsson chip technology. The all new C2.

C2 provides all the functionality required in a typical broadcast headend: encoding and transcoding (MPEG-2 or MPEG-4 AVC) including statistical multiplexing, component and service re-multiplexing, and scrambling, in a single C2 unit, at premium picture quality.

There's no need for external controllers, statmuxes or routers. Two C2s can autonomously operate as a 1 + 1 redundant solution gives a very simple to install, configure and operate headend solution.

To find out more go to this link

- NEXT GENERATION TV EXPERIENCE
VIDEO STORAGE AND PROCESSING PLATFORM (VSPP)

The Ericsson Video Storage and Processing Platform (VSPP) solution powers a unified solution for cloud DVR, on-demand, and time/place-shifted TV services offering better performance, reduced latency, and much lower CAPEX and TCO.

The platform demonstrated how it is able to save significant storage costs for DVR assets and bandwidth costs utilizing its cloud native and software defined architecture.

The ability to personalize highlights for consumers based upon interactions and its wide eco-system integration with open APIs was also showcased at the event.

To find out more go to this link


For all full list of the demonstrations and solutions covered by Ericsson at the show please go to Ericsson@IBC.